The Design Process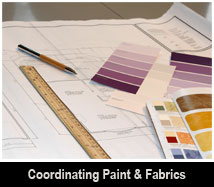 Marcie's projects range in size and scope. She can see to every detail or just stick to the basics (depending on client's requests). Marcie usually helps with color coordination of paints, fabrics, and furniture. She also helps choose artwork and arrange new and existing pieces.
Marcie often helps select new tile, lighting, cabinetry, flooring, and appliances. She guides accessory placement and updates the home by rearranging book cases, mantels, end tables, china cabinets, and above kitchen cabinets. Marcie accents existing architectural features to bring out the best features of a home or business. She even works closely (and pleasantly) with contractors in building and remodeling projects. Marcie also helps create curb appeal and "stage" homes for the resale market.
Designer fabrics may be purchased through Marcie, and she has upholstery services available. Marcie guides the selection of window treatments and bedding from ready-made to custom. She also does seasonal and holiday decorating. No time to shop? Marcie offers professional shopping services. Let an expert pick out just the right rugs, lamps, and other accessories.