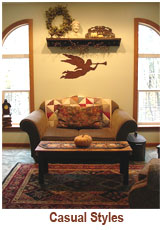 Marcie Culpepper's 24 years of experience can help create a distinctive touch of style in your home, business, or office. Marcie has headed up multiple projects ranging from small residential apartments to large commercial bank buildings. She says, "I enjoy doing a variety of projects including everything from rustic log homes to elegant city lofts. You deserve to feel comfortable in your home and workplace and you can rest assured that I will honor the budget you set - guaranteed!"
Marcie Culpepper adds, "I feel like I have been in the business since childhood. My father and grandfather were both contractors and owned a hardware/building supply company. I always liked to hang out in the paint and wall paper departments."
Marcie attended the University of Georgia and Jacksonville State University in Jacksonville, Alabama, where she was awarded a Degree in Education. She taught in the Georgia public school system for 13 years. She then went into business as a home coordinator, and she and her husband, Larry, owned and operated King Home Center. Marcie received a certificate in Interior Design and then opened her own design center. After selling her store, she continued her design business as M-Design. When time allows, Marcie Culpepper teaches design classes and does public speaking in the interior design field. She is dedicated to her profession as home coordinator, designer, and building project consultant.