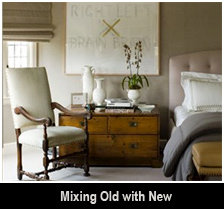 Can I combine styles? Yes! Combining styles is a great way create interest and focal points in your home or business. However there is a pretty standard "no-no." Never mix formal styles with informal styles. You can effectively combine overlapping styles - just know from the beginning what mood you are trying to create. Another rule of thumb, one style of furniture should dominate throughout the project.
Can I mix old pieces with new? Yes, the home develops its heritage and personality when an inherited piece is used (even a garage sale or thrift store piece). The mix is even more successful when there are common characteristics. It could be style, color, shape, or material. Scale of the piece should also be appropriate.
What is an example? A formal wood piece such as a formal mahogany or cherry dining table would not go well with a very informal scrubbed pine piece. The scrubbed pine is more primitive and would go well with a painted piece or a distressed and glazed piece.